current solutions
Here are some of the solutions that we have been working on over the last few months:
Winston is a mobile application that empowers patients with restricted speech abilities to communicate their treatment needs accurately and comfortably by touch.
Winston improves patient satisfaction and safety, and minimizes communication errors and delays while under care.
Please visit http://www.voxgift.com for more information.
Earlydrop is an Android app that is used to quickly install and uninstall other applications. The other applications - typically pre-releases or "early drops" in techno-speak - are published on Earlydrop's website https://www.earlydrop.com and made available to either individuals or the general public.
Publishers and developers, you should use Earlydrop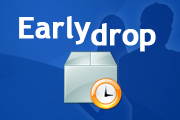 .. if you need user feedback but are not ready to put your app on Google Play
.. if you spend a lot of time explaining how to install apps that you distribute via email
.. if you don't have time to debug server and browser nuances in order to provide a download link
.. if you want to control who can use your app
.. if you need users to agree to terms-of-use or an NDA
.. if you want to build apps and not manage trials